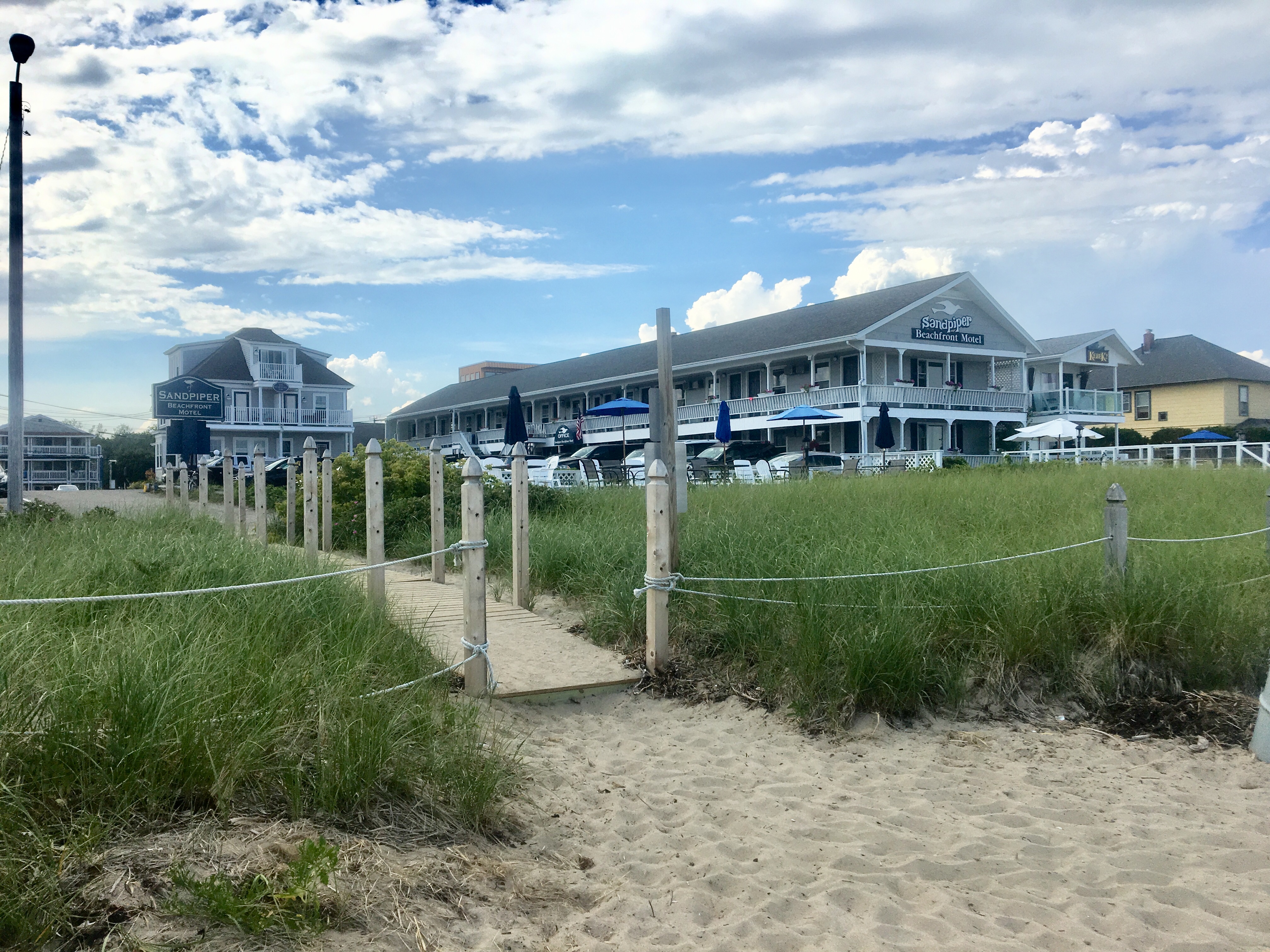 * Check-in times may be delayed due to staffing; the room may or may not be ready by 3:00pm (motel) or 4:00pm (cottage/apartments).  We apologize for the inconvenience, and will work diligently to safely clean and sanitize the unit in a timely manner.

Thank you for your patience and cooperation.
Motel Rooms
The Sandpiper is proud of its "down-home" New England hospitality. We are noted for a clean, friendly, and pleasant atmosphere.  We personally tend to our 25 oceanfront vacation rental units with loving care to ensure that you have a relaxing vacation.  The motel is directly on the beach and you'll have full access to our oceanfront porch and patios, equipped with chairs, tables and grills. Even if you don't have a direct "ocean front" unit, you have an excellent view of the ocean as soon as you step outside the door of any room-as seen from the picture above.
Our non-kitchenette, standard Motel rooms are furnished with 2 queen-sized beds (except room #17;one queen bed) microwave, small refrigerator, and a coffee maker.
Kitchenettes are equipped with a microwave, small fridge, coffee maker, 2 burner stove top, all cooking utilities: pots, pans, plates, glasses/mugs, and silverware.
Apartments
#26 First Floor
    #27 Second Floor
Our two large 2 bedroom Apartments are located right next to the Motel and sleep up to 6 people. They include a living room, dining room, large full kitchen, and small lawn with a picnic table (1st floor).  Second floor has its own balcony, with a narrow ocean view.  These larger units are perfect for families or a group of adults.
#25, Cottage
Our 2 bedroom Cottage is located behind our main Motel and sleeps up to 6 people. It includes a living room, dining room, full kitchen, sun porch, and small lawn area with a picnic table. Perfect for families our a group of adults.